Upgrade to lender mind-set bodes well for global hotel sector growth
Pioneers will reap the benefits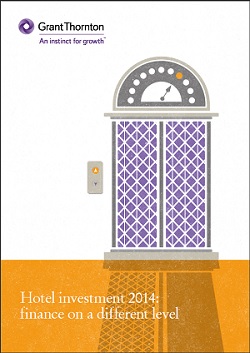 According to a new Grant Thornton report, the financial crisis has given birth to a superior environment for hotel finance. Lenders learning from past mistakes have undergone significant changes and are ramping up their levels of sophistication to better understand hotel businesses. Drawing on interviews with banks, private equity houses, advisers and hoteliers, the report calls for hotel businesses to address the way they deal with lenders and investors if they are to raise money in the new environment.
Launched at the International Hotel Investment Forum event in Berlin this week, the report, 'Hotel Investment 2014 – Finance on a different level', describes an evolution in the financing environment for hotel businesses.
Gillian Saunders, global leader hospitality and tourism at Grant Thornton, said: "The world of hotel finance has changed massively in a short time. Despite the pain of the financial crisis what's emerging, as a result, is a more sophisticated and ultimately more effective understanding between investors and lenders and hotel businesses. This new environment is welcomed by hoteliers and comes at a time when there is resurgent appetite to invest and lend to the sector. It's promising for the financing of future growth in the sector.
"Pre-2008 many banks treated hotel businesses like real estate. Now they're viewing them as business enterprises. Instead of the historical focus on loan to value ratios (LTVs), specialist hotel finance teams are analysing EBITDA and leverage multiples. In short, checking whether debts can be serviced and cash flows sustained. It's a more grown up dialogue."
Grant Thornton is advising growth focussed hotel businesses to step up their finance proposals if they are to be successful in meeting the demands of increasingly measured lenders. The five areas for companies to address are: branding, management, finances, the business plan and marketing.
Gillian Saunders said: "Banks and private equity investors are saying that they want much more insight. The days of turning up with a one pager are over. Among other things, they want to hear a good equity story with aligned investor interests. It's also vital to demonstrate an experienced, committed management team with a business plan that shows knowledge of target market segments and has a business case aimed at them."
According to hoteliers the importance of a good online strategy, as a way to build direct engagement with clients, will grow for lenders, given that online travel agent sites are capturing a significant slice of the market and impacting revenues.
New forms and sources of lending
According to Grant Thornton's global research, around one in five hotel businesses intends to invest in new buildings in 2014. Half of the experts interviewed expected banks to be the principal lenders for such projects. However, a third thought that insurance funds and private equity would be the main participants, representing a move away from the retail banks and high net-worths that previously dominated.
Finance on a different level also reveals that the cautious approach by banks and the collapse in LTVs has given rise to new creative lending structures. A number of banks are offering additional protection or preference to investors as a way of attracting lending that is conditional upon existing equity backing. This type of mezzanine financing can be structured as either debt, which is prioritised below senior debt, or as preferred classes of equity.
To find out more information about Grant Thornton International contact us.
Director of Public Relations and External Affairs
T +1 312 602 8955